Art Critique Group at the Monroe Arts Center-

An Art Critique Group meeting is held at the Monroe Arts Center on the 4th Tuesday of the month, at 1:00 pm.
MAG Volunteers Restoring Art for the
Children's Hands on Museum 2019
MAG members have been volunteering for a couple of weeks restoring some painted panels that had been displayed at the nature center at Oakdale ( which has been torn down). The panels were in storage where they were damaged so needed quite a bit of restoration They were originally commissioned by the Audubon Society for the Nature Center and the current Audubon group wanted them used so donated them to the Children's Hands On Museum which will be opening at the Lincoln Mall in the near future. Larry McCoy has been the key organizer for this project which was more extensive than first anticipated. Others who have come in to paint are Roger Goodspeed, Nanette Mosher, Faye Hughes, Ellie Bartels, Kathy Wilken, and Sherry Mave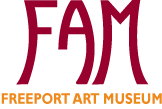 Visit the Freeport Park District's website to see the programs and art classes offered in their current, downloadable Program Guide.